Tanks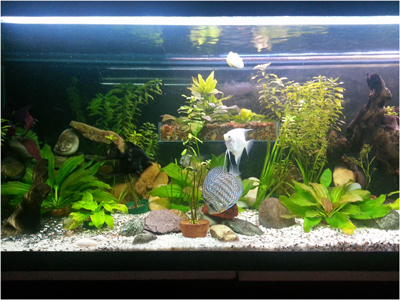 The thickness of the glass to be used in the construction a tank is determined mostly by the height of the water. In theory the length of the tank does not affect the thickness at all.
A safety factor of 2,5 is used as the absolute minimum guideline for Gapedi Tanks where 1 is very weak, 2 is good and 4 is super strong. Gapedi Tanks usually exceeds the minimum safety factor imposed on themselves. (Graham is neurotic about safety).
This and the choice of silicone are the two most important things to consider after the choice of a reputable builder. You should always check on your builder by checking the Brand via Google and or written references from recent clients.
Gapedi Tanks guarantees the silicone seals on their tanks for 2 years, subject to the condition that the seal has not been interfered with in any way. Who else does that?
Gapedi Tanks guarantees their tanks for two years on condition that they install and maintain them for this period.
GTAT (Gapedi Tanks Are Tough!)
Standard tanks are built out of new regular float glass obtained from a reputable supplier with a range of optional extras, which include:
* Polished edges (you pay per running meter)
* Opti - white glass (a clearer glass preferred by those who want vibrant colour with minimal distortion)
* Rimless - no bracing around the top of the tank. (Usually compensated for by thicker glass)
* GAP - Gapedi Aluminium Protectors. (Protective strips which prevent accidental chips and cracks on the edges)
* Executive Trim - Protective/Decorative strips along the top and bottom, usually in Acrylic.
* Light Trays - to protect your lights
* Hanging Gardens - for a variety of reasons from growing plants that need to be closer to the light to having a breeding ground where
the fry can be safe from predation.
* Condensation sliders and top covers/sliders.
* Inlet/outlet holes drilled to size.
* Overflow chambers
* Sumps to order
* Built-in Internal Filter to create a Plug & Play all in one system.
* Robust Stands built to order.
* Hammerite Rust Protective Coating for the stands.
* Plywood tops for stands
* Polystyrene/Sagex cushioning. (Only for tanks that are not built with a floating base)
Gapedi Tanks Diamond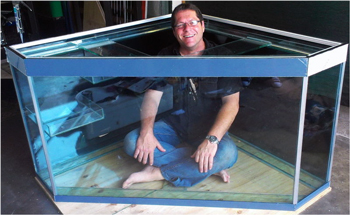 Get the Lady/Man in your life a GT DIAMOND! Guaranteed to keep him / her happy in your home for 20+ years. THIS AQUARIUM IS AS TOUGH AS A DIAMOND (I weigh more than a Rhino and it carries my weight with ease)! The one in the photos came with 3 hanging gardens by request, light trays, executive black perspex finish, black glass lids, black background and GAP (Gapedi Aluminium Protectors) for the edges.
ORDER YOUR GT DIAMOND TODAY TO AVOID DISAPPOINTMENT

720 litres of ABSOLUTELY STUNNING!
1200 x 1200 x 300 x 1270 x 300 by 800 high
Base is 15mm glass, and the sides are 12mm
Front panels are beveled to make a perfect (Gapedi strong) joint.
Optional custom built stand is incredibly strong in 50mm square tubing and finished with Hammerite (8 years Rust Prevention Guaranteed).

Smaller sizes can be made!

Tank Example